Common Fields in Planfix
27.05.2021
Most likely you remember my post about "unusual use of calculated fields", in which we opened another Narnia. Let's try to repeat this experience
Common Fields in Planfix
Most likely you remember my post about "Unusual Use of Calculated Fields", in which we opened another Narnia. Let's try to repeat this experience.
Until recently, Common Fields were used more as a signature and seal image storage for documents. But the seals and signatures of many users began to migrate to directories with company details, to the fields of companies, contacts, and even to projects. So why do we need Common Fields?
A recent refinement with calculations, which allows for a change in the general field, helped to reveal the usefulness of Shared Fields. This is the action in the scenario of tasks and contacts in block 4: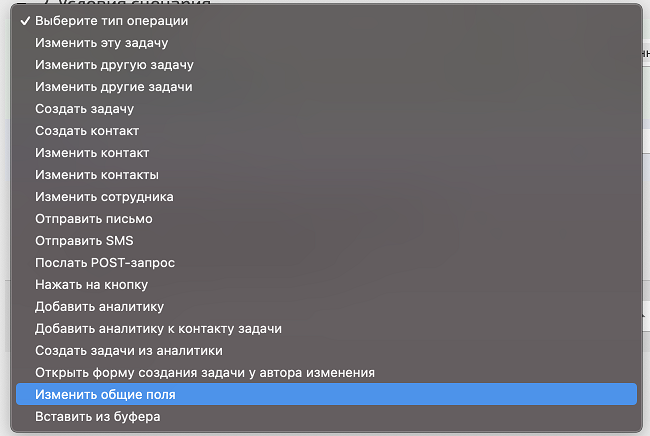 There are not many opportunities at the moment, only for "Number":

But now your appetite and interest will flare up, because the calculations turn the General field of type "Number" into real global variables or constants. And all thanks to the calculation operations: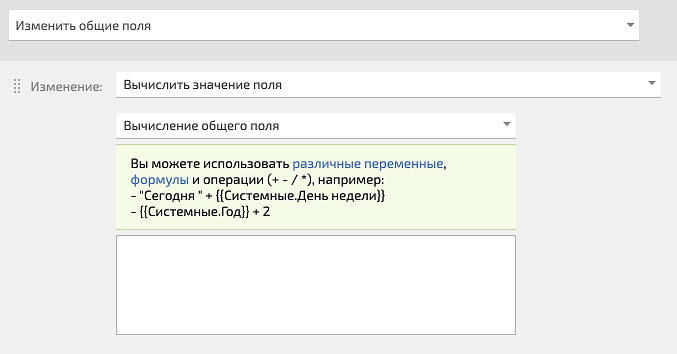 My list of common fields is:
invoice numbers for VAT contracts;
company income and expenses;
API keys from external services; s
pecialized links (deeplink);
time calculations;
forwarding values to other places in Planfix and outside of it.
Here's an example with VAT:
First, I add one to the current value.
Next, in the problem, I calculate the field with the value from this common field.
Further below I generate an invoice.

And an example with the company's income and expenses:
In the task, the status has changed to "Paid".
Add the corresponding amount to the "Income" field.
We carry out other actions.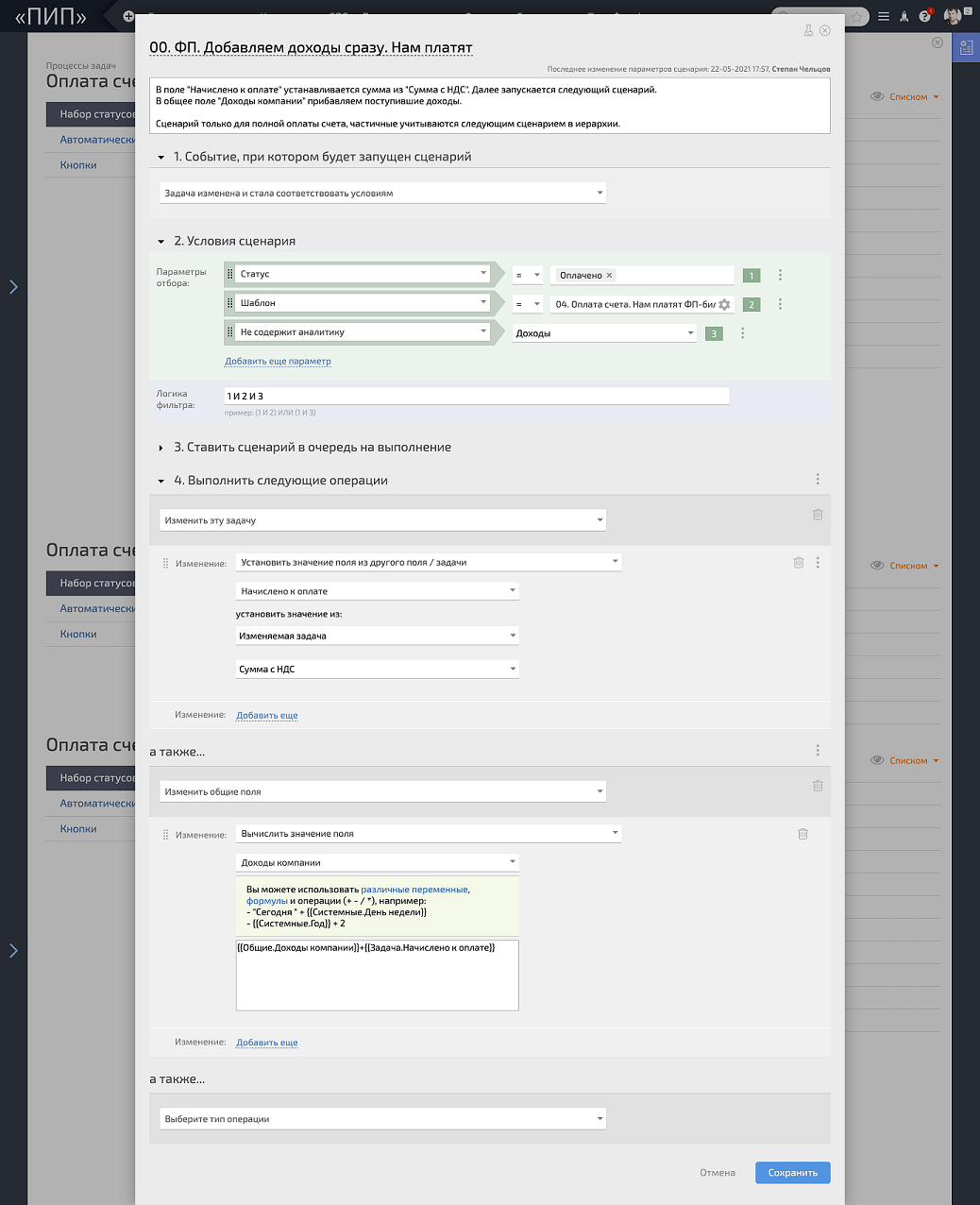 If everyone understands the invoice number, I think, then why do we need to calculate Income and Expenses in this way?
Short answer:
A quick answer to the question — are we in profit or at a loss?
Long answer:
Making reports is a matter of analysis for ordinary management, and it is important for shareholders only to understand the situation at the moment.
And if the full report can be removed only by the one who has access to all the involved tasks, then with the Common Fields, any employee can receive the calculation and issue it in the regular mailing to the necessary employees.
What did I mean about data forwarding?
For example, you need to transfer data from a task in one project to another project — you have very few options. And the common field can be used precisely for such decisions:
Changed the common field.
We sent a webhook.
Received the edits elsewhere.
And in the same way, you can create some objects using the API both in Planfix (projects, employees), and create an account in Yandex.Connect, for example, so that a newly created employee receives an email immediately. And you do not need to be a programmer for this, it is decided by the efforts of the account admin with a little preparation.
What about other types of fields?
Since we can only calculate numeric fields so far, we can work with the rest of the fields only as with constants. What does it mean:
VAT rate;
other company rates as fixed;
coefficients for calculations;
ports for connecting to specialized systems;
etc.
Those who follow my activity know that my Getupd.io project was launched. And I recommend storing a set of integrations with it in Common Fields, and using variables based on common fields in post-requests. Because if you change the integration parameters, your administrator will have to replace the value in one place — in the general field. And without it, go through all the processes and scenarios in order to change the value in the right place. And not to be mistaken when copying and pasting.
Hopefully, now the general fields will become more in demand and you will come up with new ways of using.
Native integration
Taking this opportunity, I would like to invite everyone who wants to understand the administration of Planfix. We start on June 1, 2021, we study for 6 weeks, 2 times a week.
At the end of each lecture, 2-3 tasks are given with detailed step-by-step instructions, the result of which I check personally and make sure that the student understands the essence of what is happening.
As a result of the course, 2 types of certificates are issued:
account administrator — for those who complete all tasks by the end of July;
course listener — for those who did not have time to complete the assignments.
A special thing for cadets is free participation in the next enrollment, if for some reason they could not complete the course for the first time. And if it does not work out the second time, you can participate in any subsequent course with a discount of ~ 85% = 5000 rubles.
The course program is published on the website. You can also sign up and pay there.
And the cadets' reviews can be found here.
Thanks for attention!